Books by Kim M. Kimselius
Back to Pompeii, English edition released in April 2013
Book 1 in the Theo and Ramona series
Back to Pompeii as E-book
Back to Pompeii was voted one of the best youth books of 2009 by booksellers on Iceland.
Text on the back cover of Back to Pompeii:
Ramona can hardly believe her eyes! She stares at Theo and a sense of dread starts to well upp inside her. What began as an eagerly-awaited school trip to Italy has now turned into a nightmare.
The class has just visited the museum in Pompeii, the ruined Roman city that was buried beneath volcanic ash when Mount Vesuvius erupted nearly two thousand years ago. Ramona is feeling queasy from looking at the casts of people who died in the eruption that destroyed the city. Suddenly, a strange sensation comes over her and she sits down to rest. Within minutes, she falls into a deep sleep.
When she wakes up, she finds that everything is different. Pompeii is no longer in ruins. The city is bustling with life and Ramona realises that this is Pompeii before the eruption! She also knows that Vesuvius will soon undergo a terrifying transformation. Glowing lava and choking hot ash will come raining don and bury the entire city and its inhabitants. Will she and Theo be able to get away in time? Ramona has no idea when the vulcano will erupt. It could happen in a hundred years' time, in ten years or in ten minutes...
Back to Pompeii is Kim M. Kimselius' first book. It has enjoyed great success and beeen translated into many languages and is popular with readers of all ages. Kimselius skilfully brings the history of Pompeii to life and takes the readers on a thrilling journey back in time. It's a book you won't want to put down!
Here at last! The much longed-for new edition of Kim M. Kimselius's success "Back to Pompeii", her blockbuster debut of Christmas 1997.
An independent historical adventure featuring Theo and Ramona.
What the reviewers had to say about Back to Pompeii:
"Has Blekinge got an Astrid Lindgren of its own? Having read Kim M. Kimselius' debut you might start to wonder." Blekinge Läns Tidning.
"Brings story to life... Inspiring description of the people and places..." Bohuslänningen
"A pleasant book of knowledge"... a fun way of learning..." Mitt Livs Novell
"What a success! Kim M. Kimselius' debut 'Back to Pompeii' has reached several thousand copies sold!" Hemmets Journal
"This book is great! Thrilling, amusing, sad and horryfying too - just as a good book should be!" Allers
"The suspense grows through the unexpected turns in the story." Åbo Underrättelse, Finland
"Back to Pompeii - the most successful book of the year in the children's and teenagers' category." Smålandsposten
"This is the debut of Kim M. Kimselius - the immense success of Christmas 1997 that gave her the honourable nickname 'the Astrid Lindgren of Blekinge'."
Excerpt from Back to Pompeii:
.....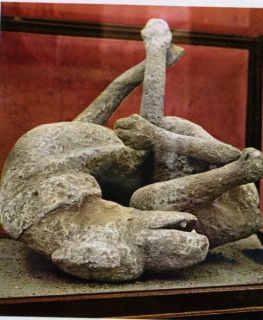 This is the casting of Primus' dog.
In "Back to Pompeii" this dog is called Pluto and he plays a central part in the book.
After seeing this cast, Kim decided that the dog should be rescued. That is why she wrote "Back to Pompeii".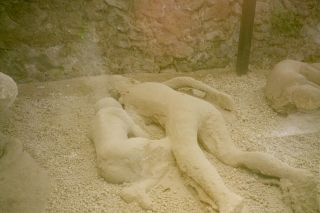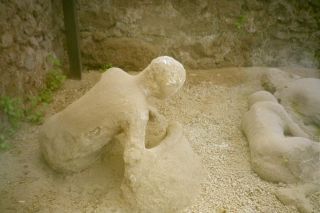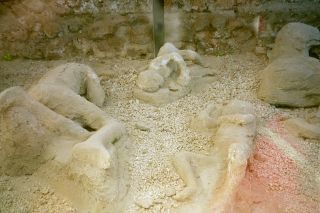 These are casts of people who perished in the eruption of the volcano Vesuvius in 79 AD, an eruption that wiped out the entire town of Pompeii. The casts were made by pouring liquid plaster into the holes their bodies hade made in the layers of ash.
This is what Ramona sees in the bok "Back to Pompeii" when she wanders through the ruins of the town 2000 years later.
When she travels through time to a living Pompeii, Ramona realizes with horror that she, too, will become on of these casts if she can't get out of the town in time.
Back to the mainpage about the books >>
ISBN-nr 978-91-86485-06-1
E-Book
ISBN-nr 978-91-86485-16-0
Back to the mainpage about the books >>