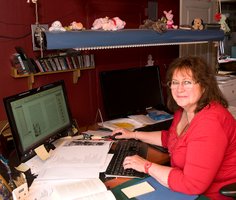 Welcome to Kim M. Kimselius!
Kim M. Kimselius writes her books for children and teenagers, but parents and grandparents enjoy her stories immensely (if they manage to get a hold of them)!
After the blockbuster success with her first book, Back to Pompeii, in December 1997, Kim Kimselius has entertained and thrilled readers of all ages. Her stories are accurate in historical facts and full of details and she mixes the facts with fiction in a captivating way. The reader can't put the book down until the last pages are read and the adventure has come to an end.
Readers of Kim's books enjoy a couple of hours of suspense and gain knowledge to last them a lifetime.
Now you can see all Kims 50 books
And read the first chapters of some of them.
Back to Pompeji was elected as one of the best youth books of the year by the booksellers on Iceland 2009
Back to Pompeii is available in English.